ADDIS ABABA -
20 Jun 2018
Machar arrives in Addis Ababa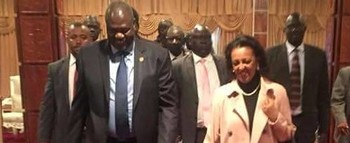 South Sudan's rebel chief Riek Machar has arrived in Ethiopia on Wednesday, boosting hopes for an end to one of Africa's deadliest civil conflicts.
Machar, who has been under house arrest in South Africa since 2016, flew into the Addis Ababa Bole International Airport as part of a regional effort to meet President Salva Kiir.
Kiir and Machar are scheduled to meet face-to-face on Wednesday to negotiate a power-sharing plan prepared by the Intergovernmental Authority on Development (IGAD) aimed at quelling the ongoing civil war in South Sudan.