Lutaya market in Yei reopens after two years due to insecurity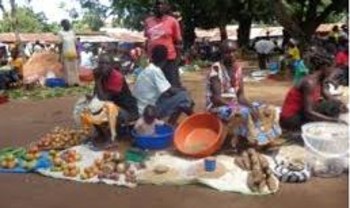 Local traders in South Sudan's Yei town expressed happiness about the reopening of Lutaya Market that was closed over two years ago due to rampant insecurity in the area.
The businessmen told Radio Tamazuj that since the arrival of the UN peacekeeping force in Yei town, business at the market has started to pick up.
Alkai Debi, one of the local traders in the area, said: "We have started selling here and many other people are opening their shops and carrying out general cleanliness. This is so because we know that UNMISS is on the ground they are patrolling up to this area."
Debi also called on the state government to support small scale traders who are trying to put up businesses at the market for hasten the resumption of daily trading activities at the market center.
Another trader who only identified herself as Betty urged the government to exempt them of taxes as they move to and from the market.
"Whenever we come from the village, we are being taxed heavily twice on the road, at a certain distance we get check points and they demand payment in cash or kind and this is done by both the government and the opposition soldiers. We want the UNMISS to patrol up to the villages and pressure government and opposition forces to remove check points and allow us move freely without being taxed because we are very poor," she appealed.
For his part, Yei town clerk Azariah Khamis Noah confirmed the re-opening of the market saying the local government will work to improve the situation and provide better services.
"The biggest market connecting rural and urban sellers and buyers from the counties and DRC Congo is open and it still operates on Mondays and Thursdays. The security is very stable and police have been deployed to provide security," he said despite declining to comment on the issue of check points.
Lutaya market is located about two miles west of Yei town along the Yei-Lasu road.