Luka Biong: Kiir, Machar unable to control their forces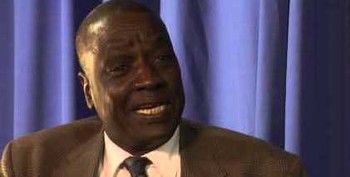 Photo: Dr. Luka Biong
Dr. Luka Biong Deng, former Director of Centre for Peace Studies at the University of Juba, said President Salva Kiir and opposition leader Riek Machar are not completely in charge of theirs forces, which he described as militias.
In an interview with Radio Tamazuj on Wednesday, Luka Biong said: "The signing of ceasefire is a key step, but those leaders are unable to control their forces. These are militias and even the government cannot control its forces. The army of South Sudan has gone unpaid for more than seven months."
"So they have to admit that they cannot provide security. Let them allow the UN forces and the Regional Protection Force to provide security until strong security institutions are established in South Sudan," Luka said.
The government and rebels have accused each other of breaking a ceasefire just hours after its implementation. The ceasefire deal signed in Khartoum recently is supposed to end the ongoing fighting.
The South Sudanese observer criticized the Khartoum framework agreement for allowing the security of the oil field in unity region to be carried out in collaboration and coordination with the government of Sudan if need be.
"What we have seen in Khartoum is that people started discussing something that was irrelevant that is the issue of oil. So this provision in the Khartoum agreement raises many questions," he said.
The South Sudanese scholar further said President Salva Kiir and his former deputy Riek Machar cannot work together for peace in the country."The violation of ceasefire confirms that those people cannot control their forces, so I call upon the African Union and IGAD countries to convince them to step aside and allow young leaders to implement the peace agreement," he said.
Biong, a Global Fellow at Peace Research Institute in Oslo, sees mistrust between Kiir and Machar as the primary future obstacle to the implementation of the peace deal in South Sudan.
"I want to say that home-grown solutions are very important in South Sudan. Religious leaders in South Sudan and even the international community know very that the two leaders cannot bring peace," he said.
"The two leaders should be convinced to step aside since they are unable to agree, I am personally convinced that even if they agree to work together, they should be persuaded to step aside," he added.
The South Sudan intellectual stressed that eminent personalities and religious leaders in South Sudan can play a significant role in shaping South Sudan's efforts to make a lasting peace.
"We can get out of the current situation if we bring young leaders, so our local and national efforts for peace are desperately needed," he said.
Luka, who had served for five years as a minister, urged joint efforts for peace to improve the dire humanitarian situation in Africa's youngest nation.