Low turnouts as schools reopen in Kakuma refugee camp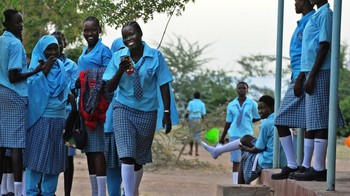 File photo: UNHCR/Anthony Karumba
The United Nations High Commissioner for Refugees (UNHCR) in Kenya said new changes in the education sector have affected education as schools reopen in Kakuma refugee camp.
Kakuma camp accommodates nearly 186,600 refugees and asylum-seekers, the majority of them, about 106,000 are from war-torn South Sudan.
In a statement shared with Radio Tamazuj on Wednesday by Yvonne Ndege, a spokesperson for UNHCR in Kenya said schools reopened for the first term on 2 January 2018 and that schools in Kakuma camp and Kalobeyei settlement, both primary and secondary schools are in session.
However, she said four schools in Kakuma camp, Hong kong area, are experiencing a low learner turnout.
The UNHCR spokesperson pointed out that some community members in the area are advising children not to go to school until some of their concerns are addressed.
She pointed to disagreements over deployment of Teachers Service Commission (TSC) registered head teachers.
"Currently, 18 of the 24 primary schools in Kakuma camp and Kalobeyei settlement (which are registered as public schools by Ministry of Education in 2014) are headed by refugees who have not been registered by TSC. In order to comply with the Government of Kenya, through the Ministry of Education, requirement that all public and private schools operating in Kenya are to be headed by a TSC registered individual, UNHCR and it's education partner (Lutheran World Federation/LWF) informed the community of the change to reassign the current refugee head teachers and deploy TSC registered heads as required," partly reads the statement.
She added that UNHCR and its partner agency LWF, on a number of sessions with refugee leaders, explained the rational for the change. "It has been broadly accepted except in four schools around Hong Kong area of Kakuma 1. UNHCR and its partner will continue to engage the community as this decision cannot be rescinded since it's a statutory requirement which UNHCR and LWF have to comply with," she said.
The organization pointed to baseless rumors about payment of school levies in primary schools in the camp.
"UNHCR has learnt of malicious rumors being spread in the refugee community that once TSC registered head teachers are deployed, refugee children will be required to pay KES 100 annually as school levy. Given that primary education is free and compulsory, UNHCR has explained on several occasions to refugees that no fees will be levied in any of the 24 primary schools now and in future," said Ndege.
All secondary school, according to the UN refugee agency, are in session and no learning has been disrupted in Kakuma camp.