Locust swarms invade Eastern Equatoria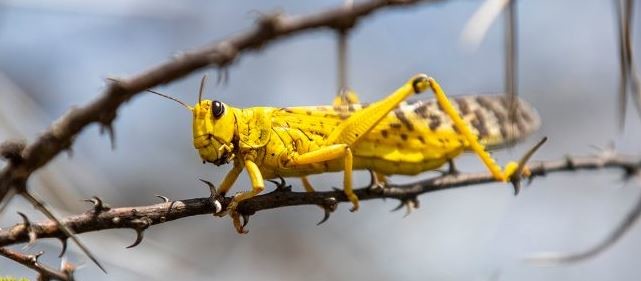 A locust outbreak devastating parts of East Africa reached South Sudan, a government official announced Tuesday.
Speaking to reporters in Juba, Agriculture Minister Onyoti Adigo confirmed the arrival of locusts in Eastern Equatoria State, saying locusts have been spotted in Lobone, Panyikwara and Owiny-kibul areas of Magwi County, on the border with Uganda.
"On Monday, we received reports that desert locusts have entered South Sudan from Magwi County and thought it was the normal green grasshopper like it has been reported earlier, but we sent our team with those of FAO [Food and Agriculture Organization] and they confirmed the presence of locusts in Magwi County," said Onyoti.
He added, "As you know, these desert locusts are like human beings, they send their reconnaissance ahead of time to make sure that whether there is food or not."
The minister said that authorities will try to control the outbreak."We are training people to be involved in spraying, so we need chemicals and sprayers. We will also need cars to move while spraying and if it becomes worse, we will need aircrafts," he said.
Meshack Malo, the Food and Agriculture Organization (FAO) representative in South Sudan, said about 2,000 locusts had been spotted so far, and if not controlled quickly, could have a devastating impact.
"You can imagine currently we have about 2,000, then there is a high likelihood that they will produce and will invite more females to come, that is what we are dealing with," Malo said.
He added, "These are deep yellow which means that they will be here mostly looking at areas in which they will lay eggs."
Malo, however, said FAO was training locals and acquiring sprayers and chemicals to combat the locusts.
This is reportedly the first locust invasion in 70 years in the country.
During the 34th extra-ordinary submit of the regional bloc (IGAD) heads of state and government held in Ethiopia a week ago, IGAD called on its member states to cooperate with the neighboring countries and exert more efforts to fight the desert locust invasion.
The arrival of the locusts, experts say, could be catastrophic in South Sudan, where war followed by drought and floods has already left six million people or 60 percent of the population facing severe hunger.