Lighting destroys church in Aweil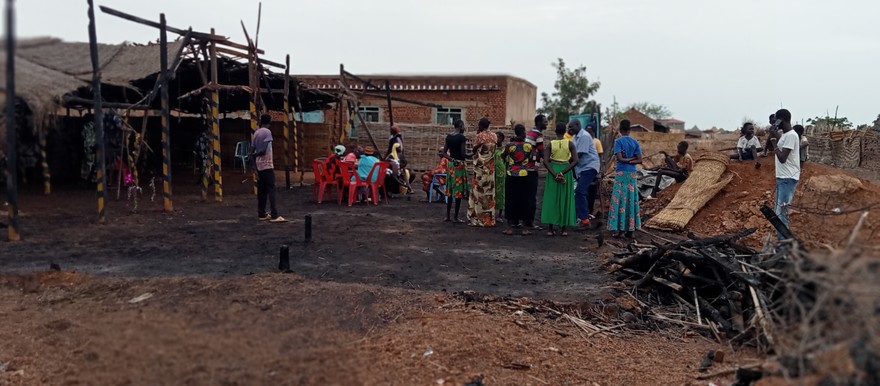 Photo: Radio Tamazuj]
The Christian Unity Fellowship (CUF) church in Awei town, Northern Bahr-el-Ghazal, was struck and burnt to ashes by lighting during a heavy downpour on Monday night.
Church properties including sound systems and chairs were among the items destroyed according to eyewitnesses.
Speaking to Radio Tamazuj during special prayers held on Tuesday morning at Malou Aweer residential area where the church was located, Angelo Atemdit, a leading member in the CUF church, confirmed the incident and added that the church members were praying over the lightning strike.
"Yes it happened and we are currently carrying out prayers and we will update you more on the incident,'' Atemdit said.
According to Abuk Angok Nguel, an eyewitness who resides near the church, the fire started at the church when heavy rains started accompanied by lightning and thunder.
"Of course we entered our rooms when the rain started at 7 pm. It thundered, shook, and lighted the area around the church, so we came out to see what was happening and we found the church was burning. That was what we witnessed at the time,'' she said.
"We held prayers the same night until the fire stopped at the church building by itself. It never jumped to other surrounding buildings. Sound systems and chairs got burned and the little boy who was inside the church escaped death,'' Abuk added.
Lt. Colonel Majok Ater, the acting director of the Northern Bahr-el-Ghazal State Civil Defense Forces, also confirmed the lightning-induced fire and said no lives were lost nor injuries sustained due to the incident.
"Yes, we have the information and I went there this morning to inspect the fire outbreak situation. It was caused by the rains that fell at 8 pm and struck the church. Thank God no human life was lost, just the church items," Lt. Col. Majok said.