RUMBEK/PIBOR -
9 Jun 2021
Lakes State, Greater Pibor Administrative Area receive Covid-19 vaccines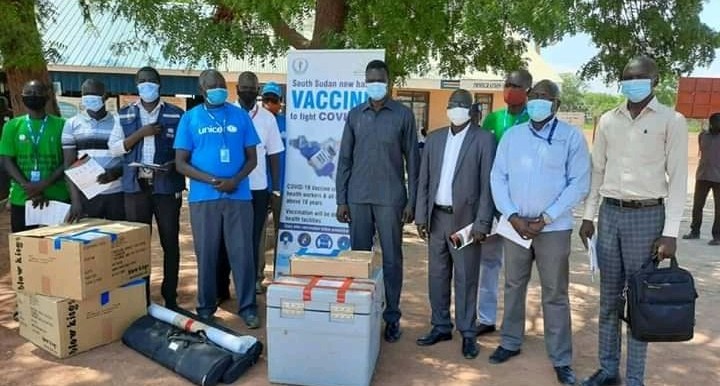 Ministry of health and health partners receives Coronavirus vaccine in Rumbek airport [Photo: Radio Tamazuj]
Health authorities in the Lakes State and the Greater Pibor Administrative Area (GPAA) on Monday received over 4,500 doses of the AstraZeneca Covid-19 vaccine.
Speaking to Radio Tamazuj, the Lakes state health minister, Dr. Jacob Akucpiir Acuoth, said, "In the first place, it is a privilege for our ministry of health and our health partners, WHO, UNICEF, CUAAM International, and HPF to receive the COVAX vaccines in Lakes State. The type of COVAX vaccine we have received today is AstraZeneca. We have received 3,700 doses."
He said they had identified and proposed the three sites of Rumbek State Hospital, Cueibet County Hospital, and Yirol County hospital for dispensing the vaccines.
"To get vaccinated is one of the best ways to protect yourself and others from coronavirus. I want to also take this opportunity to urge our citizens to get vaccinated," he added.
The Medical Director of Rumbek State Hospital, Dr. Terran Madit Terran, urged the people who are 18 years old and above to turn up and receive the vaccination on 14 June in Rumbek State Hospital.
"Some of these doses will be distributed to Yirol hospital and Cueibet hospital. Now we are conducting the training of clinical officers and nurses who will go to the counties to vaccinate the people. After they complete the three-day training in Rumbek, 14 June is fixed for the launching," he said.
The UNICEF representative, Emmanuel Gai Kuctiel, said, "What I would like to emphasize is that everybody eligible should come out and receive the vaccine to protect them and to protect our community. This is quite significant for everyone."
The WHO representative, Dr. Jiel Jiel, said that the vaccine is safe for everybody, especially the adults from 18 years and above who are the target group.
Meanwhile, more than 1,000 doses of the AstraZeneca Covid-19 vaccines arrived in the Greater Pibor Administrative Area (GPAA) by Monday.
Speaking to Radio Tamazuj on Tuesday, Dr. Abdelrobu Mohamed, the acting director-general in the GPAA health ministry, said, "Today, Pibor and Jebel Boma areas, received 350 doses of the AstraZeneca vaccines each. Last Friday, Pochalla County received 400 doses."
The health official pointed out that a vaccination drive will be launched as soon as the vaccinators are trained.
"On Friday, we will start training those who will carry out the vaccination. In each of the areas, about 20 people will be brought to Pibor town for training as local vaccinators and by next Monday, we may launch the vaccination program," he added.
Dr. Mohamed urged the local population to get ready for the drive.