Mundri West County -
20 May 2022
Lack of medics, drug shortages plague Mundri PHCC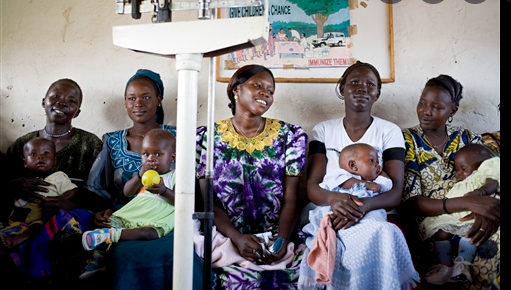 Mothers take their children for vaccination at the Mundri PHCC. (ICRC photo)
A lack of medical staff and drug shortages have hit Mundri Primary Health Care Center in Mundri West County, Western Equatoria State, forcing patients to buy drugs from pharmacies.
The in-charge at the health facility, Festo Ezibon, told Radio Tamazuj Friday that it is true that they started facing challenges after Médecins Sans Frontières (MSF) or Doctors Without Borders pulled out of the center a month ago.
"In the past, work was going on well because we were working with MSF but they pulled out and left a lot of gaps at Mundri PHCC," he explained. "More than 300 patients visit the (medical) center daily but we only have one laboratory technician and one clinical officer. The population of Mundri is too big."
Alex Taban who is attending to a patient at the health facility said the main challenge they are facing is the lack of medicine and appealed to the government and its partners to intervene.
"I have three children here and what I have seen in this hospital is that the patients all have a fever," he said. "I am appealing to our government to look for drugs to help these children because they are suffering. We have been here for two days now."
Another attendant, Mary, said there are very few medical personnel at the hospital and reiterated that there were no drugs and that they had to buy medicine from pharmacies in the town.
"The main challenge that I found here is that the medical staffs are not many and the patients are many and cannot be attended to quickly. There are also no drugs and you need to run to the pharmacy," she lamented. "The common sickness here is malaria. We need help. Let them bring doctors here to treat our children."