Labour minister objects as James Hoth named Nuer election winner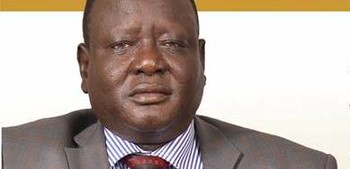 Photo: Gathoth Gatkuoth
South Sudan's former army chief, James Hoth Mai, was formally declared the winner of the election of Nuer community in Juba last week but labour minister Gathoth Gatkuoth objected to the process.
As a member of the greater Nassir community — like James Hoth Mai — Gathoth Gatkuoth said he and a group of Nuer elders reject the election held in Juba last week.
The community's election commission said Mr James Hoth won 67 out of 82 votes against his only rival, Timothy Tot Chuol, a deputy speaker of the national legislative assembly.
But Gathoth Gatkuoth told Radio Tamazuj this afternoon that he would not accept Hoth's victory saying the election was not fair. "The criteria set for members of the Nuer community to elect their leader were not right, so this is my argument," he said.
"The election should be repeated so that the process becomes transparent to involve more electorates when peace is restored. "The eligible voters should be more than 1,500 to elect the Nuer community leader, not 120," he added.
"Representatives of Jikany, Lou Nuer, Fangak and Bentiu are the ones to elect the leader of the Nuer community. So the four sections of Nuer ethnic group should have representatives to vote for the leader. We reject the number of people who voted for James Hoth."
Gathoth, who is also a minister, said he had no problem with James Hoth Mai." What I want is a fair election. 30 representatives from each Nuer section cannot elect the community leader," he said.