Trader resists paying double rental fees in Konyokonyo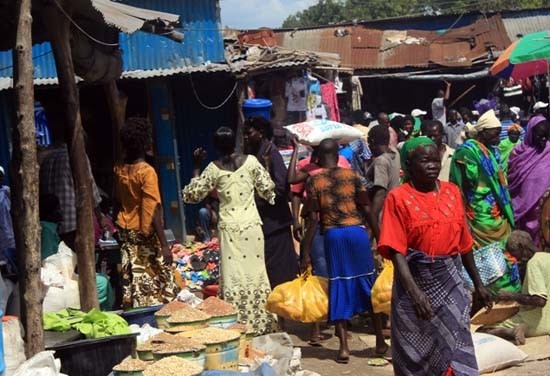 A trader in Juba's popular Konyo-Konyo market has expressed disquiet over what he termed as 'double rental fees' imposed on them by both the Islamic Endowment Authority and the Juba Municipal Council.
According to the trader, the Islamic Council in Juba imposed a monthly rental fee of 10,000 South Sudanese Pounds from each trader renting a shop at the Al Waaz Center for Religious Guidance, despite a dispute over the ownership of the land with the Juba Municipal Council, which also charges monthly rental fees.
Last Saturday, the Islamic Endowment Authority launched a campaign against traders who had not paid the rental fees to the institute.
The trader, who preferred to withhold his name, said he could not continue paying rental fees to both the Islamic Endowment Authority and the Juba Municipal Council.
"Let them sort out this issue. We cannot continue paying the City Council and the Islamic Endowment Authority. They should stop threatening us with police and guns," he warned.
Ibrahim Awol, the official spokesman for the Islamic Council in South Sudan, while acknowledging the land dispute with the city council, urged the traders to pay their dues and insisted that the land belongs to the Islamic Endowment Authority.
"Anybody who is renting a shop in this place should make sure that he is not renting from the wrong person. Anybody that does not sign a contract with Islamic Endowment shall be questionable by the law," Awol warned.
He explained that the Islamic body has all the legal documentation for the land in question and urged traders to cooperate with the authority.
For his part, the chairman of the Central Equatoria State Chamber of Commerce, Robert Pitia, appealed to the Islamic Council not to impose fees on traders saying only a court of law can resolve the land dispute.
"This activity is illegal and the council doesn't have any legal grounds to demand any coin from any trader. These are individuals who want to tarnish the image of the Islamic council," he claimed.
He called on the Islamic Council to let the court determine the ownership of the land.
The Juba Municipal Council was not available for comment despite numerous attempts.