Kiir warns of 'chaos' ahead of planned protests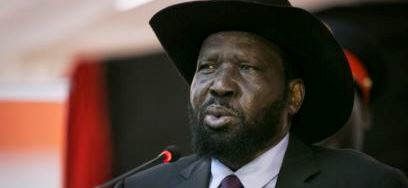 South Sudan President Salva Kiir Mayardit has warned of a risk of "chaos" as youths plan to stage demonstrations against his rule.
"We will not accept chaos in our country… So, the youth must always avoid social media campaigns from abroad to stage protests," Kiir told officials while launching the international internet gateway in Juba on Tuesday.
"When you are being urged to protest against the government from abroad, don't they know that people may die in the protests? If the government closes its mind and mows you down with automatic weapons. Why do you want to die for no apparent reason?" he asked.
However, the South Sudanese leader said he will not order his soldiers to shoot anti-government protesters.
South Sudanese activists, apparently emboldened by the success of similar protests that ousted Sudan's President Omar al-Bashir, called for anti-government protests on 23 May.
The protests are planned by the Red Card Movement, a new group initiated by activists to increase pressure on Kiir to step down.
President Kiir urged the people of South Sudan to work hard for progress and prosperity of the country." The war that we have in front of us is the war of development. Let us develop our country and let us forget about the guns, these guns are destroying us," he said.
Kiir warned young people against being used in wars, saying young people must concentrate on development activities.
The president has expressed optimism that the peace agreement could signal the start of stability in the world's youngest nation. "We are one people, we are brothers and sisters. If you keep that in your minds every day, I don't think that you will fight with anybody," he said.
Kiir and opposition leaders failed to establish a unity government as stipulated in the revitalised peace accord by May 12. The formation of the transitional government was extended by six months to November.