Kiir urges SPLM members to keep peace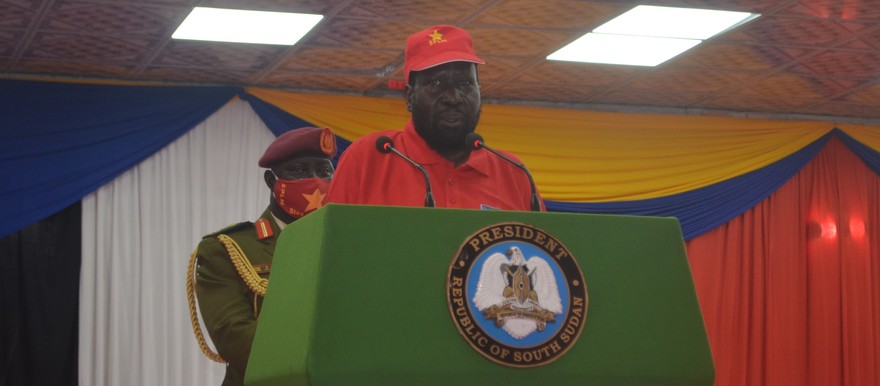 South Sudan's President Salva Kiir has called on his ruling SPLM party members to propagate peace across the country. He made the remarks during an SPLM meeting he chaired in Juba on Friday.
President Kiir who also chairs the SPLM party said: "You must be the ambassadors of peace, SPLM must always be preaching peace. Because you (SPLM) fought for the independence of South Sudan, and you brought independence. Therefore you must maintain peace in the country."
Kiir admitted that his government did nothing in the last 10 years of independence due to what he termed as years of senseless war, pledging not to take the country back to war.
"Let us strengthen the SPLM, we did nothing in the last 10 years of our independence due to senseless war. We were fighting to get independence, but now what we are fighting for again? We got independence and we had held positions before the 2013 war," Kiir added.
The South Sudanese leader also advised members of the SPLM party to propagate the SPLM political ideology by working in harmony with other smaller political parties in the country.
"As a ruling party, you must work in collaboration with other smaller parties for the good of South Sudan by bringing them closer. As a big party, you should be on good terms with other opposition parties, sell your political ideology to other political parties by being close to them," he advised.
President Kiir also warned South Sudanese of the current escalating violent conflict in parts of Western Equatoria state, saying his leadership will not tolerate any further violence.
"As we are talking in this hall, there is a very unfortunate situation happening in Western Equatoria. This is what I always tell South Sudanese that I will not take the country back to war. But if you attack me once, and again, I will respond in self-defense. The issue of forgiveness is something which was real during the era of Jesus Christ, and that is why he was killed. But I hope war shall not happen again in South Sudan," he said.
The SPLM meeting was attended by members of the SPLM Political Bureau and SPLM caucus.