Kiir urges EAC to support South Sudan peace efforts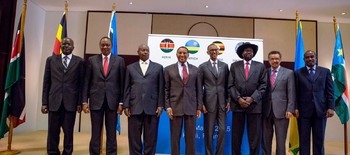 President Salva Kiir Mayardit has called on the regional East African Community (EAC) to support South Sudan in its quest for peaceful resolution of the on-going conflict in the country.
Kiir was addressing the two-day East African Community Summit under the theme "Deepening and widening regional integration through Infrastructure and Health Sector" held in the Ugandan capital Kampala on Thursday.
"We want to ask our region to stand with us so that we stop the war and then we develop all the resources that we have," Kiir said
He further urged the regional bloc to work to protect member states from exploitation and interference.
"The East Africa community should remain as a bloc and not to allow member states to be bullied by those who would want to cow them down so that they take whatever resources they take from the country," he added.
"South Sudan is not supposed to be poor to the extent that we are in now. South Sudan has potential and it is potentially rich but no opportunity is given for the development of those resources," President Kiir noted.
Kim Gai Ruot, a South Sudanese representative to the East African Legislative Assembly told Radio Tamazuj on Thursday that among other things the summit is expected to discuss the full admission of South Sudan into the East African Community, as well as Somali government's request to join the bloc.
The summit is an annual convergence of the EAC member states: Uganda, Kenya, Tanzania, Rwanda, Burundi and South Sudan.