Kiir to Warrap citizens: There will be no development unless you stop communal fighting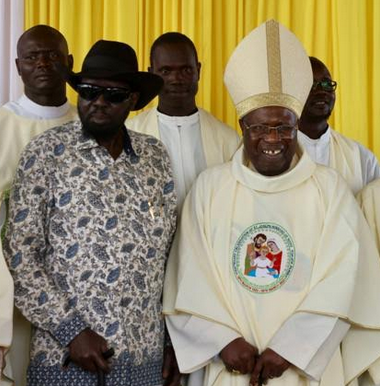 President Salva Kiir (L) and Cardinal Gabriel Zubeir Wako (R) in Kuajok. (Photo: Radio Tamazuj)
South Sudanese President Salva Kiir Mayardit on Sunday told the people of Warrap State not to expect any kind of development in their area until they shun conflict, disarm, and cease inter-communal violence.
Kiir joined the Catholic faithful at the St. Joseph's Parish Church in Kuajok in Warrap State to celebrate 100 years of Catholicism in the area. Catholic missionaries established St. Joseph's Parish in Kuajok in 1922 and started building the church in 1923.  
Addressing the congregants, Kiir who hails from Warrap State said he was baptized at St. Joseph's church in Kuajok on 21 January 1961 and that that prompted him to attend the celebrations.
"I was baptized here in Kuajok catholic church in January 1961," he said.
The president said he could do nothing to mitigate the perennial communal conflicts and resultant violence in the state.
"The communal conflict is not my job, it is you who can talk to your sons to stop. It is the best way. Otherwise, I will come here with my soldiers and command a disarmament campaign," he said. "The people of Warrap talk about lack of roads but I will not build goods roads and other development projects unless the people hand their guns. I have lost a lot of my soldiers here but I can order them to simply take the guns from the youth. What is wrong with that?"
"I fought the Sudanese civil war in which the government used to attack us with battle tanks and planes so this (disarmament) is not difficult," Kiir added.
He also pledged to renovate and build catholic churches in the state.
"We had a plan with late Radolf Deng Majak, the Bishop emeritus of the Diocese of Wau, to build churches in Luony Aker and Lietnhom in Gogrial East County, Akoc thon in Twic County, Malek Alel, Majak Akoon and Gokmachar in Northern Bahr El Ghazal plus Bahr El Sharge and Majak Achol in Wau," Kiir said. "We will work on these churches."
Meanwhile, Cardinal Gabriel Zubeir Wako urged the inhabitants of Warrap State to change their attitude and thinking and refrain from communal conflicts.
"It is time for everyone here to ask him or herself whether they are a brother or sister in this community. We go back again to think about the family. We were not born strong but small weak babies. We grew up because other strong people brought us up," he said. "And when we grew big, we were also able to help those who brought us up. It is the same way we have to look at one another today." We are the brothers of Jesus Christ and the children of St. Joseph."
"Jesus is telling us we have to be powerful as one family that lives and loves each other," he added.
On his part, Warrap State Governor Manhiem Bol Malek said the security situation was now relatively stable.
"Together and by faith we have built the moral standard and trust to enhance good governance and rule of law in Warrap State. The security situation is relatively calm that is why there is a celebration here," he said. "We cannot assure you of total peace in the state because we have insecurity at the border of Twic and Abyei and also at the border of Tonj East County of Warrap State and Rumbek North County of Lakes State. However, we have tried to resolve these issues with Lakes State Governor Rin Rueny."