Kiir to visit Bahr el Ghazal soon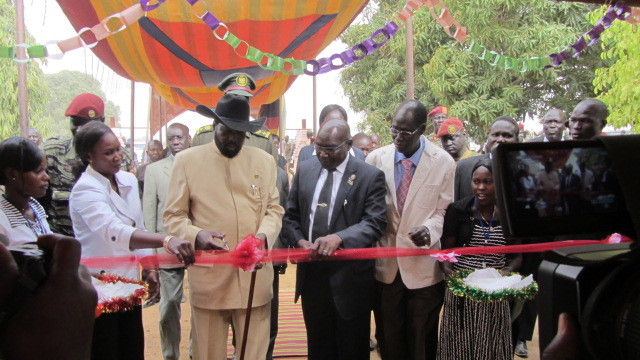 Salva Kiir, the president of South Sudan, will soon visit the state of Northern Bahr el Ghazal to brief the public about the status of the disputed 'Mile 14' border area. The governor of the state said the visit may happen before Christmas.
The Cooperation Agreement which was signed on 27 September in Addis Ababa made the 'Mile 14' area part of the demilitarized zone along the border between the two Sudans. The concession angered many locals, who wanted the Southern army to continue occupying the area.
Addressing a gathering at Aweil Freedom Square on Tuesday, Governor Paul Malong Awan announced the visit of President Salva Kiir Mayardit to Northern Bahr El Ghazal state in order to brief the entire citizenry about what the implementation of the cooperation agreement will mean for the 'Mile 14' residents.
After Malong's announcement many people started to dance and sing while a few Muslims in the crowd shouted 'God is great' in Arabic as different signs of welcome.
Governor Malong did not specify the exact date of the visit but said it may be before Christmas.
The rally was attended by residents, students from various schools, state government officials and UN representatives.
Governor Malong also urged residents of the state to remain calm to cooperate with neighboring communities such as Misseriya and Rizeigat through cross-border trade for their mutual benefit. These tribes seasonally graze their cattle in the disputed border area.
On another matter, the governor pointed out that the state government is giving a lot of money to pay staff of the Aweil civil hospital, but said there were no improvements being seen within the hospital.
Malong did not mention how much money is being given to the health ministry and Radio Tamazuj could not reach the state ministry of health for comment on the accusation.
File photo: President Salva Kiir (left) and Governor Paul Malong (right).