Kiir sets 1 condition for Machar's return to South Sudan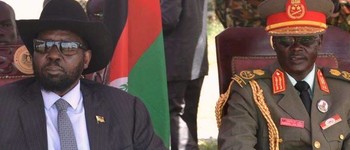 File photo: President Salva Kiir attends a ceremony of the SPLA flag handover to the new chief of defense forces, Gen. Gabriel Jok Riak at the army headquarters in Juba on Thursday, 10 May, 2018. (Presidential press unit)
South Sudan's president, Salva Kiir Mayardit, has set one condition for the return of his former deputy and rebel chief Riek Machar to the country.
"Riek Machar can come back to Juba here, but without even a single soldier. If they say he will return with his army, I will never accept," Kiir said at a ceremony of the army flag handover to the new army chief in Juba on Thursday.
The South Sudanese leader said he would accept his archrival Riek Machar to return to the country as a civilian, vowing he would guarantee his protection and safety in the nation's capital Juba.
"I told them that you people [regional leaders] Riek Machar is a South Sudanese citizen. As government of South Sudan, we have not cancelled Machar's citizenship. So I told them to bring Riek Machar," he said.
Kiir said during the SPLM Liberation Council in Juba recently that he wants his exiled former deputy to return to the country, saying he has forgiven him.
Machar fled the capital July 2016 after heavy clashes between his forces and troops allied with President Kiir.
He is being held in South Africa to prevent him from going back to his country. The decision was reportedly taken by the region in order to keep him away in the hope of preventing war in South Sudan.