Kiir says he won't quit power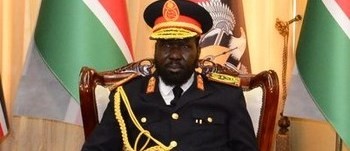 Despite mounting calls for him to quit, many of which are coming from his opponents, South Sudan's President Salva Kiir defiantly insisted on Tuesday that he would never resign.
The South Sudanese leader is facing an uproar over the ongoing civil war in the world's youngest nation since 2013.
Kiir said Tuesday afternoon: "They [rebels] think that I am the obstacle to peace, and if I am removed after signing the agreement, then there will be no problem. They want me to sign the agreement and then step down immediately …What will be my incentive in bringing peace?" he asked.
"What is my incentive if it is peace that I will bring and then step aside? Nobody can do it," he said.
Kiir said his opponents made "impossible" demands at the peace talks in Addis Ababa, Ethiopia.
The South Sudanese president was addressing citizens who converged at the Dr. John Garang Mausoleum in the nation's capital Juba to pay their last respects to the late army chief, Gen. James Ajongo Mawut.