Kiir sacks three states' governors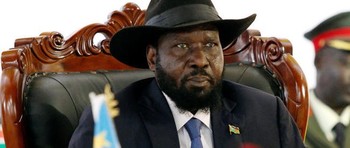 South Sudan president Salva Kiir. (REUTERS)
South Sudan's President Salva Kiir has issued an executive order sacking three state governors and replacing them with new officials.
The changes, the state-owned media announced Friday, saw removal of Ismail Konyi, governor of Boma state, Eastern Lakes governor, Bor Wutchok Bor and Latjor state governor Peter Gatkuoth from their positions.
Kiir appointed David Yau Yau as Konyi's successor, while Gen. Mangar Buong replaced Wutchok. Peter Gatkuoth was replaced by James Duer Chuol.
No reasons were, however, cited in the presidential decree for these changes.
Kiir also relieved South Sudan's ambassador to Russia Telar Deng from service in the ministry of foreign affairs.