Kiir sacks two state governors, appoints Twic governor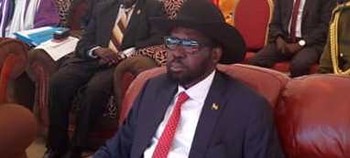 Photo: President Salva Kiir
South Sudanese president Salva Kiir on Thursday night removed two state governors from their positions and appointed new officials.
The president, according to the decrees read out on state-owned media, removed the governor of Aweil state, Yournew Wol Kuot and the governor of Northern Upper Nile state, Deng Akuei Kak.
Wol was replaced with Jal Malith Jal and Akuei with Awer Dau Agany.
The decree did not cite any reason which necessitated the removal of the two governors.
President Kiir, in a separate decree, appointed Atem Dut Yaak as the new governor of Twic State.