Kiir sacks Terekeka state governor, RRC chairperson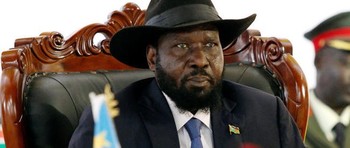 File photo: President Salva Kiir
South Sudan's President Salva Kiir of South Sudan on Saturday evening issued an executive order removing Terekeka state governor and appointing a new official in his position.
President Kiir, according to the state-owned media, sacked Governor Juma Ali Malou from his position and replaced him with Augustino Lako Buli as the new governor.
Kiir also removed Martha Nyamal Choat, chairperson of the Relief and Rehabilitation Commission (RRC) with her deputy, Paul Dhel Gum. Martha was replaced with former deputy governor of Central Equatoria state, Manasseh Lomule Waya, while her deputy was replaced with Santino Bol Muoter.
Former Lakes state governor and former political detainee members Chol Tong Mayai was appointed as the first grade ambassador in the ministry of foreign affairs.
Former Northern Bahr el Ghazal minister of cabinet affairs who also served as the deputy speaker of the state legislative assembly, Monica Achol William and another official were appointed grade two ambassadors at the ministry of foreign affairs without assignments.