Kiir sacks GPAA chief administrator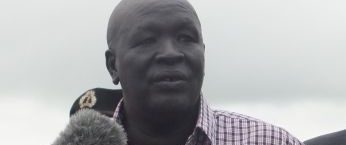 File photo: Joshua Konyi
South Sudan's President Salva Kiir has sacked the Chief Administrator of the Greater Pibor Administrative Area (GPAA) following recent intercommunal clashes in the area.
The decree announcing the immediate removal of Joshua Konyi did not give any reason. He was appointed to the position in June 2020.
The presidential decree broadcast by the official South Sudan television (SSBC) went into effect on June 3.
The president issued another decree appointing Lokali Amae Bullen as the new chief administrator of the Greater Pibor Administrative Area.
A joint delegation consisting of representatives from the UN Mission in South Sudan (UNMISS), African Union (AU), Intergovernmental Authority on Development (IGAD), Reconstituted Joint Monitoring and Evaluation Commission (RJMEC), the African Diplomatic Corps (ADC), and the acting Humanitarian Coordinator (HC) expressed concern over the violence that has escalated in the Greater Pibor Administrative Area after visiting the area on 1 June.
"The delegation is concerned that violence this year could evolve into something similar to that witnessed in early 2020 when thousands of fighters from Dinka, Nuer, Murle communities conducted attacks on villages, killing and wounding hundreds of civilians," the statement from the delegation read in part.
While acknowledging that the current fragile situation has begun to improve gradually, the delegation called on the government of South Sudan, together with community leaders in Greater Pibor and Jonglei, to take steps to silence the guns, address the root causes of the conflict and fulfill its responsibility to protect civilians.