Kiir returns home after Eritrea visit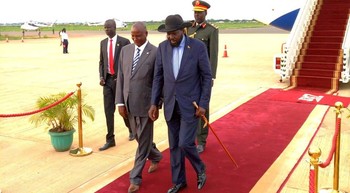 Photo credit: South Sudan presidential press unit
South Sudanese president Salva Kiir Sunday evening returned to the country after a two-day state visit to Eritrea.
During the visit President Kiir met with his Eritrean counterpart Isaias Afwerki and discussed issues of mutual interest between the two countries.
Nhial Deng Nhial, Minister of Foreign Affairs, said in a statement that the two leaders disused bilateral relations, regional matters and the ongoing peace process in South Sudan.
He pointed out that President Kiir reiterated his determination to end the ongoing conflict through peaceful means.
The South Sudanese minister further said President Kiir congratulated Eritrea's leader Isaias Afwerki and his Ethiopian counterpart Abiy Ahmed for full normalization of relations between the two countries.