Kiir, responding to economic crisis, orders reduction in diplomatic staff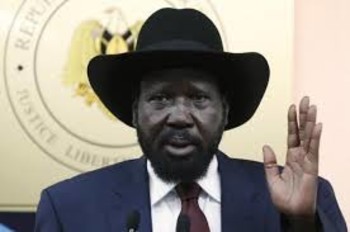 File photo: President Salva Kiir
South Sudan's President Salva Kiir has announced Friday that the foreign ministry must reduce its diplomatic staff to a manageable size, a response to the current economic crisis in the country.
In making the announcement during the opening of the foreign ministry building in Juba, Kiir said the number of diplomatic staff in the ministry must be reduced because of economic troubles stemming from the ongoing civil war.
"Any recruitment in the ministry must be opened to the public to provide opportunities to all qualified South Sudanese. It should not be done under the table," Kiir said.
Kiir thanked the government of China for constructing the new office facilities of the foreign affairs ministry. "It is a great pleasure and honour for me to open this facility built by the government of China as a gift to our ministry of foreign affairs and international cooperation," he said.
"China is a true partner in development and a very good friend of South Sudan. They supported the Comprehensive Peace Agreement of 2005 and supported the will of the people of South Sudan to be free people and were among the first nation to recognize the Republic of South Sudan," he added.
Kiir also appreciated China's role in supporting the government of South Sudan in international forums.