Kiir regrets sparing lives of Machar, Pagan's group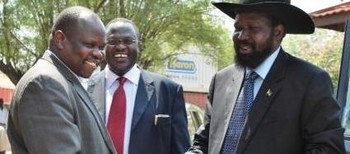 President Kiir said he regretted sparing the lives of his archrival Riek Machar in 2016 and former detainees led by Pagan Amum after he fell out with them in 2013.
The SPLM faction known as the 'former detainees' comprises top party officials led by former SPLM Secretary-General Pagan Amum, and includes also John Luk, Deng Alor and Kosti Manibe, Majak D'Agoot, Madut Biar, among others. President Kiir arrested them for allegedly attempting a coup on 15 December 2013, but all of them were eventually released.
Kiir's former deputy Riek Machar, who was accused of leading the alleged coup plotters, fled with his bodyguards following fighting in the capital Juba.
Addressing citizens who gathered at the Dr. John Garang Mausoleum in Juba on Tuesday to pay their last respects to the late army chief, James Ajongo, Kiir said the mistake of his government was sparing the lives of his former deputy Riek Machar and former detainees' group.
The South Sudanese leader admitted he succumbed to pressure from peace guarantors to release the dissident group led by Pagan Amum on conditions of keeping them out of politics.
"But when I watched television after I released them on the same day, I saw them being received on the red carpet by that country and they started talking politics after leaving Juba, so that's why I regretted for saving their lives," Kiir said.
"The same in 2016, when Machar went to my office with his cooped pistol trying to finish me in the office to declare himself as the president of South Sudan, which he didn't manage," Kiir said.
"After all when Machar's bodyguards were completed during J1 fighting, I asked Vice President James wani Igga to offer protection to Machar by covering him with our bodies until we escorted him to his car and we saved him and now Riek is alive. I saved him just like the same way I saved his colleagues who participated with him in a coup attempt in 2013," he added.
South Sudan government recently revealed that it had released an amount of 5 million USD to pursue and kill Riek Machar in the bush following fighting in July 2016.