Kiir receives credentials of new US Ambassador Hushek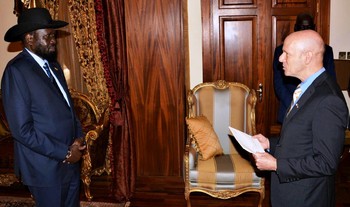 President Salva Kiir on Monday received the credentials of new Ambassador of the United States to South Sudan, Thomas Hushek in a ceremony that took place at the State House in Juba.
Hushek was accredited as US ambassador to South Sudan, replacing Mary Molly Phee.
After presenting his credentials to President Kiir, Ambassador Hushek said the United States has been a partner and friend of the people of South Sudan for a long time.
He reiterated his government's commitment to continue supporting South Sudan in order to achieve peace and stability.
The US diplomat appealed to South Sudan's political leaders to work for the benefit of citizens.