Kiir proposes allocating 14 states to opposition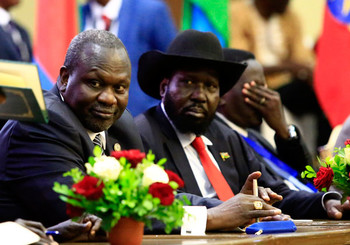 South Sudanese president Salva Kiir is recommending nearly 14 states out of the controversial 32 states go to the opposition as part of the peace deal.
Under the signed peace accord, the power sharing ratio at the state and local government levels is 55% for the incumbent government and 45% to the opposition.
According to the agreement, an Inclusive Boundary Commission (IBC) will be formed within two weeks of the signed agreement to settle the dispute over the number of states and will complete its work within 90 days.
It also says in the unlikely event of the commission failing to make its final report before the end of its term, it will be automatically transformed into Referendum Commission on number and boundaries of states under the direct supervision of the African Union and the IGAD.
"The government will have only 18 out of the current 32 states and that means the remaining 14 states will have to go to the opposition, so the government will have 18 states and 18 governors. The opposition will have 14 states and 14 governors," Kiir said while briefing his governor in Juba today.
"Also out of all the counties in South Sudan, the opposition will take almost half of the commissioners, county councillors although they say that the relative presence of the parties in the area will be taken into account," he added.
Kiir advised his governors to adapt to the new changes as part of the signed peace agreement. "Some of you governors will lose positions as governors or become deputy Governors if you are lucky. Similarly, some of your county commissioners as well as county councillors will have to give way for the opposition. That is the prices of peace and I do not want you also to pick up your guns and then rebel against the system," he said.
"I called you to Juba to share with you about the peace we have signed recently with the opposition groups in Khartoum on 5 August…it is very important that I update you about the peace agreement which we finally reached on the outstanding issues of security and good governance, "he added.
"You as the governors must take this message and start telling it to our people so that they understand it properly and so that they cooperate with the government when times comes…engage the chiefs, community leaders, women, the youth and the churches in your states about the importance of this trends."
The South Sudanese leaders emphasized the importance of democracy to transform the newest nation. "Let's fight politically through democratic means of exchanging power peacefully from party to party when time comes for elections," he said.