Kiir promotes over 120 generals, including army spokesman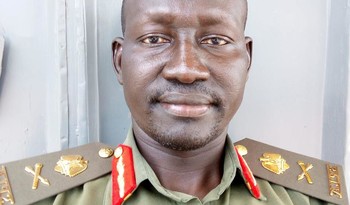 File photo: SPLA spokesman Maj. Gen. Lul Ruai Koang
South Sudanese president Salva Kiir has signed off promotions for more than 120 army officers to the rank of a major general, a spokesman for the army said.
The mass military promotion – the first so far this year – was approved by President Kiir who also doubles as the commander in chief of the SPLA army.
SPLA spokesman Lul Ruai Koang told Radio Tamazuj on Tuesday that he was promoted from a brigadier general to a major general among 123 new major generals on 27 July.
Lul further said he was ready to serve the army in any capacity." I am ready if the SPLA leadership decides to redeploy me. But if I am asked to remain in my position as the army spokesman, I will continue serving because I am not too big to serve the SPLA and the people of South Sudan," he said.
He explained that the army officers were promoted based on merit, pointing out that some of the promoted army generals will be redeployed to the different units of the SPLA army. "I think the number of the promoted major generals is not too big for the SPLA army. It is also their right to be promoted," he said.
"Many officers spent several years without being promoted, and some of the officers were not promoted since 2005,"he added.
The army spokesman noted that the mass military promotion was signed off by President Salva Kiir after a planned budget for the army.