Kiir promises to accept defeat if he loses planned election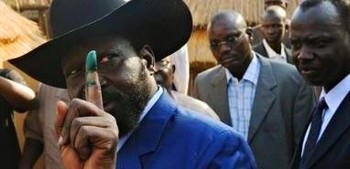 South Sudan's President Salva Kiir has pledged to concede defeat should he fairly lose the planned presidential elections when peace comes to the war-torn country.
It remains unclear who will vie against Kiir, 66, who has been in power since 2005. No elections were conducted since South Sudan became independent from Sudan in July 2011.
Speaking at a dinner party organized at the State House on Monday evening, the South Sudanese leader expressed interest in the next presidential race when peace is restored in the country.
However, Kiir said he will respect South Sudanese citizens' decision in the event that he loses the election. "If peace comes today and we go for elections and somebody beats me in the election, I will not go to fight. It will be my end of my term in the office," he said.
Kiir urged the opposition to accept a peace agreement on transitional arrangements that will lead to elections in the country. "Let us reach that point. You tell those who are fighting against us, the opposition, to come in and accept peace," Kiir said.
"Let us agree on the interim period and go for elections," he added.
The president noted he has always respected the people's wishes and that the opposition leaders should be ready for the next race. He urged his potential competitors to commit to maintaining peace first.
Kiir's term in office will expire in August this year if no election conducted and peace accord signed with the rebels.