Kiir pardons 30 prisoners, including Biar Ajak and Kerbino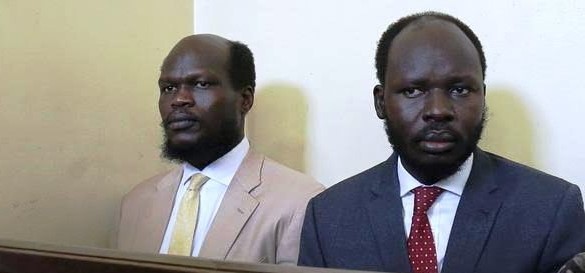 File photo: Peter Biar Ajak (R) and Kerbino Wol Agok (L)
South Sudanese President Salva Kiir has issued a decree pardoning 30 prisoners convicted of minor offences, barely a week after visiting an inmate facility in Juba.
Last week, Kiir promised to release some inmates who had shown good conduct on the New Year's Eve.
Among those freed this evening are prominent political activist Peter Biar Ajak and philanthropist Kerbino Wol Agok.
On 11 June 2019, a court in Juba sentenced to jail activist Peter Biar Ajak and businessman Kerbino Wol following accusations that they threatened the security of the state.
Mr Biar was sentenced to two years in prison and Mr Wol got 10 years. Biar was initially detained by the National Security Service (NSS) in July 2018 while Wol was detained in April the same year.
Biar was accused of inciting violence and disturbing the peace over interviews he gave to the media during a stand-off between inmates and guards at the National Security Service headquarters on October 7, 2018, while Wol was accused of masterminding subversive activities against the government.
The sentencing of the two men was condemned by several human rights defenders.
Shortly after Mr Biar's arrest in July 2018, social media users launched the hashtag, #FreePeterAjak.
Biar, a prominent youth leader, has been calling for President Salva Kiir and opposition leader Riek Machar to step down so that the new generation could take over and achieve peace.
President Kiir and opposition leaders have extended the deadline to form a unity government twice, most recently on November 7, 2019, and have twice failed to make any progress towards a unity government or adequate implementation of the peace agreement.