Kiir orders transportation of Yau Yau's forces to Juba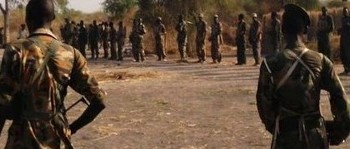 Photo: Soldiers of the late rebel commander George Athor (Radio Tamazuj)
South Sudan's President Salva Kiir has ordered the new army chief to transport the former SSDM/A 'Cobra Faction' led by David Yau Yau from Boma State to the capital Juba.
"Those forces should be brought here. No troops can be deployed in their home state. They must be brought so that they can be integrated," President Kiir told the new army chief, Gen. Gabriel Jok Riak in Juba on Friday.
In January 2014, David Yau Yau signed a ceasefire agreement with the government, mediated by religious leaders led by Bishop Emeritus Paride Taban of the Roman Catholic Diocese of Torit. His group then entered into political negotiations which resolved the conflict.
Yau Yau waged an insurgency in the Pibor area of greater Jonglei from mid-2012 through 2013. Yau Yau recruited his troops from the Murle tribe to which he belongs.
In January 2016, the leader of the SSDM Cobra Faction officially joined the SPLM in Juba, in another sign of continuing efforts to integrate the former rebel group into the country's government and army.
Gen. David Yau Yau is now serving as governor of Boma State.