Kiir orders release of war prisoners, detainees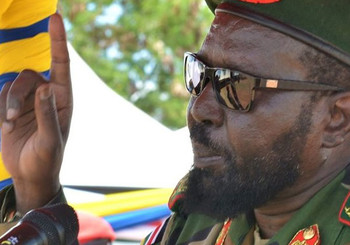 President Salva Kiir (photo credit: South Sudan presidential press unit)
South Sudan's President Salva Kiir on Thursday ordered the immediate release of prisoners of war and detainees in line with the peace deal.
South Sudan's government, rebel groups, and opposition parties signed a final peace accord on 12 September, after protracted negotiations.
The new peace deal will see the creation of a new unity government after eight months, with opposition leader Riek Machar reinstated as first vice president.
In a decree read out on state TV, Kiir directed the Chief of Defense Forces to release the prisoners of war (PoWs) and detainees under the supervision of the International Committee of the Red Cross (ICRC).
Kiir, who is also the commander in chief of the army, ordered the forces to cease the training and recruitment of SPLA and other organized forces in line with provisions of the revitalized peace agreement.
He also ordered the forces to refrain from revenge attacks and violation of the permanent ceasefire across the country.
Last week, South Sudan's opposition leader Riek Machar set conditions for his return to the capital Juba to attend peace celebrations.
Machar appealed to President Kiir to lift the state of emergency and release all prisoners of war and political detainees before he could come to Juba for peace celebrations soon.