Kiir orders release of James Gatdet and Machar's South African advisor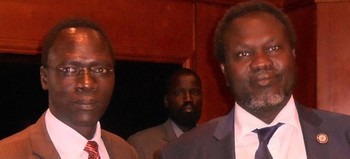 South Sudanese President Salva Kiir Mayardit on Wednesday ordered the release of James Gatdet Dak, a former spokesman of opposition leader Riek Machar.
In his speech during the peace celebrations in Juba on Wednesday, Kiir said although Gatdet has been sentenced to death, his release is a gesture of peace.
In November 2016, Machar's spokesman Gatdet Dak was deported by Kenyan officials over issues related to a Facebook post in which he expressed support for the removal of Lt. Gen. Johnson Mogoa Kimani Ondieki, the Kenyan top officer in the UN mission in South Sudan.
Kiir also ordered the release of William John Endley, a South African national who was Machar's adviser on Thursday after which he will be deported to his home country.
The South African, who is a retired army colonel, was also sentenced to death early this year on charges of espionage, conspiracy to overthrow the government and supplying weapons.
He was arrested in the capital Juba by national security agents on 18 August 2016.
Machar while addressing the celebrations called for the release of all political detainees, lifting of the state of emergency and political parties' freedom.