Kiir meets visiting opposition leaders in Juba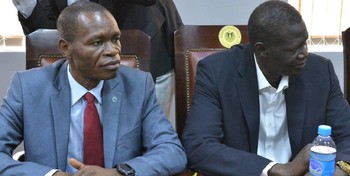 President Salva Kiir met Thursday with a delegation of the South Sudan Opposition Alliance (SSOA) in Juba in a gesture of goodwill to show commitment to the revitalized peace agreement.
South Sudanese on Wednesday celebrated the signing of the peace deal aimed at ending the five-year civil war. Regional dignitaries and South Sudan's opposition leaders, who signed the peace agreement with President Salva Kiir in Addis Ababa, attended the celebration in Juba.
In press statements after the meeting, the SSOA interim leader Gabriel Changson Chang said their meeting with President Kiir discussed the implementation of the peace agreement.
"What we did yesterday (Wednesday) was to build up the momentum and to be seen all of us together. We gave hopes to our people that yes these were the people who were fighting and now they are talking peace together in one place," Changson said.
He further reiterated the commitment of the SSOA leadership to the signed peace accord.
For his part, cabinet affairs minister Martin Elia Lomuro said the meeting between President Kiir and the visiting opposition delegation focused on the implementation of the peace agreement.
"They advised each other and the president appreciated the brotherly discussions with all the leaders who comprise of the South Sudan Opposition Alliance (SSOA)," Lomuro said.
The peace accord signed by President Kiir and opposition leaders in September will see the creation of a new government in April 2019, with main opposition leader Riek Machar reinstated as first vice president, one of five vice presidents.