Kiir meets SPLM-FDs member Deng Alor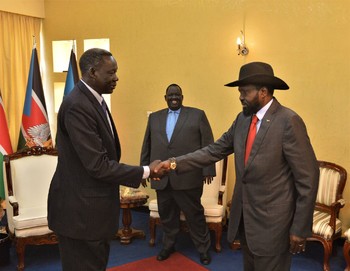 South Sudan's President Salva Kiir met the senior member of the SPLM Former Detainees group in Juba today during his first visit to the country since going into exile early this year.
Speaking to reporters after the meeting, Deng Alor said the meeting with President Kiir focused on the implementation of the revitalized peace agreement.
He reiterated his group's commitment to the implementation of the peace deal, saying the revitalized peace accord is a popular demand of the people of South Sudan.
Also in attendance were Presidential Adviser on Security Affairs Tut Gatluak and representative of the other political parties Peter Mayen Majongdit.
Gatluak, who is also the head of the pre-transitional committee, said the SPLM-FDs official returned to Juba to consult with President Kiir on the implementation of the peace agreement.
The SPLM-FDs are a group of high level politicians who were arrested by the government after the outbreak of war in December 2013 and accused of trying to overthrow President Kiir. They were later released due to lack of evidence and fled to Kenya. The former detainees, who do not command any troops, have been involved in the peace process with the armed groups.
The leading member of the SPLM-FDs landed in Juba yesterday.