ADDIS ABABA -
20 Jun 2018
Kiir meets Ethiopia's PM before his meeting with Machar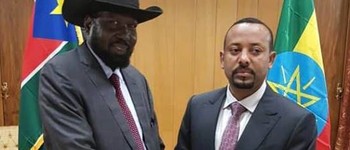 South Sudan's president Salva Kiir met with Ethiopia's Prime Minister Abiy Ahmed this evening before his meeting with opposition leader Riek Machar.
President Kiir was accompanied by cabinet affairs minister Martin Elia Lomuro, oil minister Ezekiel Lul, information minister Michael Makuei Lueth, and gender minister Awud Deng Achuil.
The South Sudanese leader is expected to meet his former deputy Riek Machar to discuss all outstanding issues this evening.