Kiir, Machar to meet in Addis Ababa - presidency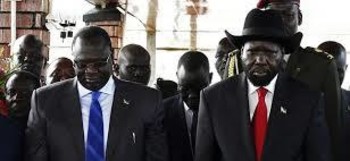 South Sudan's President Salva Kiir will meet with opposition leader Riek Machar next week, as part of efforts to push the peace process, the president's office has said.
The president's spokesman Ateny Wek Ateny told Radio Tamazuj today that Kiir and Machar will meet face-to-face in Addis Ababa next week to add impetus to the critical pending tasks in the peace deal, which is behind schedule.
"The president will travel to Ethiopia next Tuesday to meet Machar," Ateny said.
Ateny pointed out that the planned meeting will be arranged by the Inter-Governmental Authority on Development (IIGAD), saying the region is keen to push the South Sudan signatories on their commitment to meet the implementation timelines.
"The initiative came from the mediators so that the transitional government is formed in November," he said.
There has been no immediate reaction from the opposition SPLM-IO or from the Intergovernmental Authority on Development (IGAD), which mediated the peace process.
Earlier this month, South Sudan government invited exiled opposition leader Riek Machar to meet with President Kiir in Juba to discuss the challenges of implementing the revitalised peace deal.
However, the opposition group said it was ready to allow Machar to return to Juba if certain security assurances were made.
Machar, who under the terms of the peace deal is to be reinstated as first vice president, is currently in Addis Ababa.
South Sudan's rival leaders extended the formation of the unity government to November in order to implement key provisions such as creating a unified army and determining the number of states