Kiir, Machar summon security chiefs for talks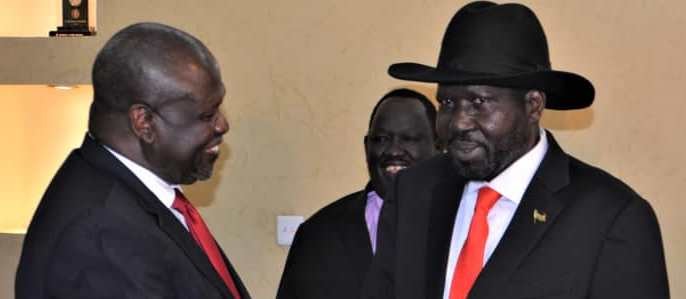 President Salva Kiir and opposition leader Riek Machar meet in Juba on October 19, 2019. (SSPPU)
President Salva Kiir and opposition leader Riek Machar have summoned security leaders to a meeting Sunday in a bid to review security arrangements.
This came during a face-to-face meeting between the two principals at the presidential palace in Juba this afternoon.
Speaking to reporters after the meeting, Information Minister Michael Makuei said Kiir and Machar will be briefed by top leadership of the country's security organs on Sunday morning.
"They have called the leadership of the security organs, the Joint Defence Board and the rest, to brief them tomorrow morning so that they can discuss issues from an informed position," he said.
"The command of the forces is expected to come tomorrow at 9:00 am, to brief them on the progress made in the peace agreement, specially the security arrangements," he added.
Makuei, who is also the government spokesman, said tomorrow's meeting with top security officials will take place before meetings of the United Nations Security Council.
Puot Kang Chol, who represents Machar's SPLM-IO at the National Pre-Transitional Committee (NPTC), the body charged with implementing the peace deal, confirmed that the two leaders called for a meeting with senior security officials to assess progress on the implementation of security arrangements.
"They have agreed to meet with security organs tomorrow morning, and from there they will be able to take decisions," Kang said.
Exiled opposition leader Riek Machar arrived in Juba this morning for talks with President Kiir and members of the UN Security Council.
The expected talks in Juba come amid international pressure before a November 12 deadline to form a unity government, a key part of the revitalised peace deal signed by the rival parties in September last year.