Kiir, Machar sign Khartoum framework agreement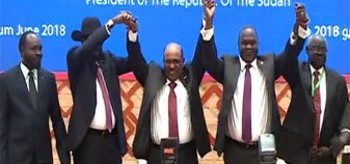 South Sudan's President Salva Kiir and opposition leader Riek Machar signed a framework agreement providing a critical step towards resolving the conflict.
The deal was signed at the Sudanese presidential palace in Khartoum this afternoon by Kiir and Machar. The document was co-signed by representatives of the other opposition groups.
Sudan's foreign minister who read the text of the Khartoum framework agreement said the South Sudan warring parties declared a permanent cease-fire and it will come into effect on Saturday.