Kiir, Machar meeting with security chiefs cut short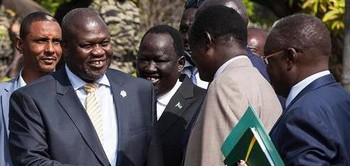 Opposition leader Riek Machar, second left, arrives to meet with President Salva Kiir at the presidential palace in Juba, September 9, 2019. (Photo by AFP)
Today's meeting between President Salva Kiir and Dr Riek Machar had to be cut short midway as Kiir had to meet with the UN Security Council delegation.
The two principles agreed that the meeting aims at reviewing all aspects of security arrangements would be carried on at a time to be decided later.
Speaking to reporters after the meeting at the presidential palace this morning, Puot Kang Chol, who represents Machar's SPLM-IO at the National Pre-Transitional Committee (NPTC), said Kiir and Machar were briefed by top security officials on the progress made in the implementation of the security arrangements.
Kang pointed out that the two leaders ordered the security organs to expedite the implementation of the critical issues.
"The meeting was called off because members of the UN Security Council are coming to meet the president, so it will continue at a time the principles may decide later," he said.
The SPLM-IO official further said Kiir and Machar are committed to the implementation of the September 2018 peace agreement.
For his part, Information Minister Michael Makuei Lueth said progress has been made in the security sector, but critical steps are not happening fast enough due to some obstacles.
"The principles directed the security organs to continue with the implementation…the leadership could not complete their meeting or decide on the way forward because of the time constraints," he said.
"The meeting was called off and the parties will meet again later to continue with the process so that they come out with the final decision on the implementation of the agreement," he added.
Makuei, who is also the government spokesman, stressed that the chances of reaching a breakthrough in the security arrangements before 12 November are likely.
"Most of the functions can be implemented, and I am saying this because the main obstacle is the training of the VIP protection unit and graduation of some of the forces," he said.
The process of creating a unified army is a cornerstone of the revitalised peace deal. But the implementation process has been riddled with delays.
The ongoing talks come amid international pressure as a deadline looms on November 12 for President Kiir, opposition leader Riek Machar and other opposition groups, to form a unity government.