ADDIS ABABA -
20 Jun 2018
Kiir, Machar meet in Addis Ababa after two years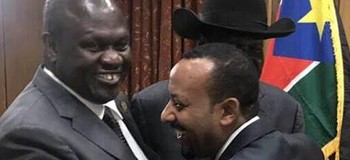 South Sudan President Salva Kiir and opposition leader Riek Machar have met for the first time since fighting in July 2016.
Machar, who was released from house arrest in South Africa recently, fled Juba following heavy fighting in July 2016.
"H.E PM Abiy Ahmed hosted a private dinner to President Salva Kiir & Dr Riek Machar together," Chief of Staff in Prime Minister Abiy Ahmed's office Fitsum Arega said on his Twitter account on Wednesday night.
"The two met for the first time in two years."
Kiir and Machar would negotiate a power-sharing plan prepared by the Intergovernmental Authority on Development (IGAD) aimed at quelling the ongoing civil war in South Sudan.
Pressure has been growing on the South Sudan warring parties to end the ongoing civil war.