ADDIS ABABA -
21 Jun 2018
Kiir, Machar hold 'tough talks' in Addis Ababa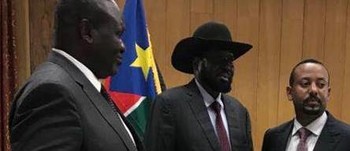 President Salva Kiir and rebel leader Riek Machar held "tough talks" in Addis Ababa for the first time in almost two years.
The meeting between Kiir and Machar continued into the night on Wednesday, with more details of the talks yet to be revealed.
A top official in Addis Ababa told Radio Tamazuj that the two leaders held tough talks on the outstanding issues yesterday.
"The discussions were marred by the experiences of the July 2016 events. The deliberations did not draw a consensus, but the spirit of finding a solution was highly demonstrated during the deliberations," he said.
"The big issue was on matters of security arrangements and power-sharing plan including the number of states and size of the government," he added.
Edmund Yakani, Executive Director of the Community Empowerment for Progress (CEPO) said the meeting between Kiir and Machar was encouraging.
"This is what we as citizens want to see. Resolving political differences non-violently is a great value of politicking and civility in politics. We are urging the leaders to delegate the delegations with the responsibility of making peace happens in the next sessions of the revitalization forum," he said.