Kiir, Machar asked to work together: official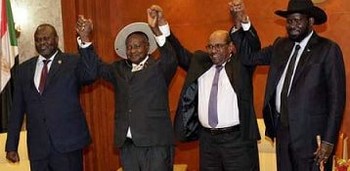 Sudan's President Omar al-Bashir and Uganda's President Yoweri Museveni asked Kiir and Machar to work together during a closed-door meeting in Khartoum this morning, a top opposition official said.
"The meeting between President Museveni, President Bashir, President Kiir and Dr. Riek Machar at the Friendship Hall focused on ceasefire, security arrangements, South Sudan economy, formation of government, and elections after the transitional government," Manawa Peter Gatkuoth, deputy head of the SPLM-IO's information committee told Radio Tamazuj.
"President Museveni and President Omar al-Bashir said oil production in South Sudan should resume because the country's economy is deteriorating. They asked Kiir and Riek to work together and forget their differences for the sake of their country," he added.
The top SPLM-IO official said Machar emphasized the need for proper security arrangements and economic recovery during the transitional period before planned elections.
"Machar said during the closed-door meeting that the upcoming elections will be the final stage, so he said the ongoing war should stop to improve the economy of the country," he said.
He pointed out that President Salva Kiir and opposition leader Riek Machar are expected to hold face-to-face talks on Tuesday.
The East African regional bloc IGAD tasked Sudan to host a new round of talks between South Sudanese President Salva Kiir and the opposition leader Riek Machar.