Kiir, Machar ask ministers to fight corruption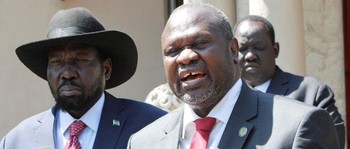 Opposition leader Riek Machar speaks during a news statement with President Salva Kiir (L) after a meeting in Juba, December 17, 2019. (REUTERS)
President Salva Kiir and his first deputy Riek Machar have asked ministers to fight corruption as they rollout government programs.
This came during the first cabinet meeting in Juba six days after the appointment of national ministers.
Information Minister Michael Makuei told reporters after the meeting on Wednesday that Kiir and Machar said the war against corruption must succeed.
"The president called upon the cabinet to work together to fight corruption so that our country is not considered part of the corrupt world," Makuei said.
According to Minister Makuei, President Kiir has urged the newly appointed ministers in the unity government to work for peace and harmony as it would help the people to prosper.
"He [Kiir] also requested that we should restore law and order to protect the country's sovereignty. Also, he stated that we need to render the necessary social services to our people so that thy feel the real peace dividends," Makuei said.
He added, "Our people have not tested the dividends of peace and we are under duty to render services that are really needed by our people."
Meanwhile, Minister Makuei said Machar asserted that the government will adopt programs to curb corruption that has affected the country.
"He [Machar] said corruption is a stigma that we must fight, especially in the area of procurement. He stated that without us fighting corruption, the people of South Sudan and the world at large will not trust us," Makuei said.
It remains unclear how the unity government will crack down on corruption during the transitional period.
According to reports, corruption in South Sudan permeates all sectors of the economy and all levels of the state apparatus and manifests itself through various forms, including grand corruption and clientelistic networks.
Regional and international players have reportedly continued to profit from close relationship with South Sudan's leaders.
South Sudan was ranked as the second-most corrupt nation in Transparency International's 2019 Corruption Perceptions Index (CPI).