JUBA/KHARTOUM -
7 Nov 2019
Kiir, Machar arrive in Entebbe for tripartite talks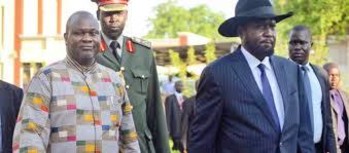 South Sudan's President Salva Kiir and opposition leader Riek Machar have arrived on separate flights this morning in Entebbe, Uganda.
The two rival leaders would discuss outstanding issues in a tripartite summit between South Sudan, Uganda and Sudan.
Sudan and Uganda are guarantors to South Sudan's peace deal that seeks to end nearly six years of civil war.
The tripartite talks, which come ahead of the expected formation of a coalition government on November 12, would be held in the presence of the Ugandan President Yoweri Museveni and the head of the Sudanese Sovereign Council, Abdel Fattah Al Burhan.
Critical issues, including security arrangements and the number of states, have yet to be resolved.
The president's spokesman Ateny Wek Ateny told Radio Tamazuj that President Salva Kiir has arrived in Entebbe to participate in the tripartite summit.
Ateny stated that the meeting aims at discussing the outstanding issues related to the implementation of the peace agreement.
"The summit also aims to discuss the formation of a unity government as planned," he said.
For his part, opposition leader Riek Machar arrived in Entebbe to participate in today's meeting with President Kiir and guarantors to the peace deal.
Puok Both Baluang, the opposition SPLM-IO's director of information, said the meeting would focus on critical pending tasks in the peace deal.
Machar, who lives in Khartoum, was accompanied by the head of the Sudanese Sovereign Council Abdel Fattah Al Burhan.
Machar has called for another delay on forming a unity government by November 12, accusing the government of failing to implement key interim benchmarks.
The peace deal brokered by the East African bloc IGAD reinstates Machar as first vice-president, one of five vice-presidents.