Kiir leaves Machar in Khartoum, returns home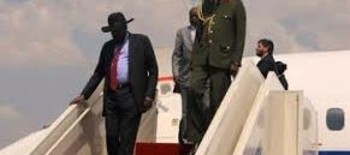 South Sudan's President Salva Kiir left his former deputy Riek Machar in the Sudanese capital Khartoum and returned home on Wednesday evening.
Kiir and Machar agreed on Wednesday to a permanent ceasefire to take effect within 72 hours, raising hopes of a peace agreement to end the ongoing civil war.
Speaking to reporters upon Kiir's arrival, the presidential envoy Nhial Deng Nhial said President Kiir returned to resume his duties.
Nhial further said the Khartoum Declaration of Agreement signed by President Kiir with the opposition would allow reforms in the security sector in country.
He pointed out that the government delegation remained in Khartoum to continue negotiations on the outstanding issues on governance and security arrangements to finalize the IGAD bridging proposal.
The Sudanese government said recently that South Sudan rebel leader Riek Machar will remain in Khartoum for the duration of the negotiations which is expected to last for two weeks.