Kiir leaves for Sudan to witness power transfer deal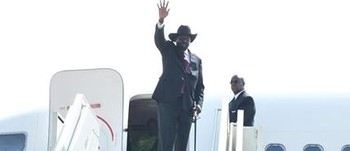 President Salva Kiir has left for Sudan to witness the signing of the constitutional declaration paving the way for a transfer of power to civilians.
Sudan's Transitional Military Council (TMC) and the Forces for Freedom and Change (FFC) are scheduled to sign the document that defines the next 39 months of transition this afternoon.
"The President of the Republic, H.E. Salva Kiir Mayardit and his accompanying delegation left Juba for Khartoum this morning," Kiir's press office said in a statement.
Leaders of Chad, Kenya, Rwanda and Ethiopia are also expected to attend the ceremony.
A number of representatives of regional and international organizations and diplomatic missions, leaders of parties and civil society organizations in the country are also expected to attend the signing ceremony.
The celebration will officialise the constitutional declaration inked on 4 August between the Transitional Military Council and the Forces for Freedom and Change.
The opposition alliance on Thursday nominated Abdulla Hamdok, a former senior UN official, as prime minister in a transitional government.
The protest leaders revealed that the composition of the sovereign council, which will become the highest decision-making body overseeing the transition to democracy, is due to be announced on Sunday.