Kiir leaves for Addis Ababa to meet Machar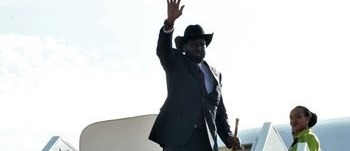 President Salva Kiir travelled this afternoon to Ethiopia, where he was invited by the region to meet opposition leader Riek Machar, Kiir's press unit reported.
Kiir and Machar are set to meet today for first face-to-face talks to negotiate a power-sharing plan prepared by the Intergovernmental Authority on Development (IGAD) aimed at quelling the ongoing civil war in South Sudan.
Pressure has been growing on the South Sudan warring parties to end the ongoing civil war.