Kiir leaves for Addis Ababa to attend IGAD summit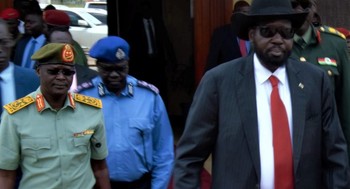 Photo credit: South Sudan Presidential press Unit
South Sudan's President Salva Kiir left for Addis Ababa this morning to attend the Intergovernmental Authority on Development (IGAD) summit, which is to decide on the final peace deal in the country.
President Kiir was seen off at Juba Airport by the First Vice President Taban Deng Gai and a number of cabinet ministers and top military officers.
Speaking to reporters on Wednesday, South Sudan presidential spokesman Ateny Wek Ateny said President Kiir will be attending the summit which would determine whether the final peace deal will be signed or not.
"Well, I cannot talk about the deadline simply because the issue of the final signing is within the agenda of the IGAD Council of Ministers before they start the heads of state summit this afternoon…if there is a breakthrough, it will be communicated during the summit later," he said.
Ateny, who is also the presidential press secretary, said President Kiir is expected to extend his stay in Ethiopia if the warring parties agree to sign the peace document.
"He will be extending his stay in Ethiopia so that the final peace agreement is signed while he is still there," Ateny said.
"But if the parties don't agree on the final document, then this is going to be a one-day visit, the president will return to Juba to wait until he is called for the final signing," he added.