Kiir leaves for 30th AU summit in Ethiopia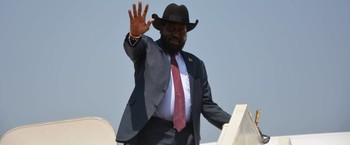 South Sudan's President Salva Kiir on Saturday departed Juba for Addis Ababa, Ethiopia, to participate at the 30th Ordinary Session of the Assembly of Heads of State and Government of the African Union (AU).
The theme of the summit this year is "Winning the fight against corruption: A sustainable path to Africa's transformation."
According to a statement by South Sudan presidency, Kiir will hold sideline meetings on the South Sudan peace process, revitalization of the 2015 peace agreement and bilateral relations and there after join other heads of state in a series of meetings whose focus will be on the fight against corruption.
Kiir was accompanied by a number of government officials.
The meeting of the Heads of State will take place from January 28-29.