Kiir lashes out at corruption charges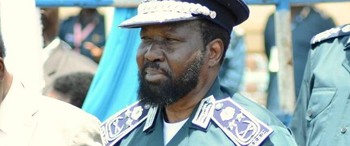 File photo: President Kiir addresses police cadets in Juba on April 12, 2018.
South Sudan's President Salva Kiir has lashed out at opposition officials who have accused his administration of involvement in an embezzlement scheme and leading the country to bankruptcy.
The South Sudanese leader fought back Thursday at a graduation ceremony for police cadets in Juba after he was accused of corruption by his former army chief turned rebel leader, Gen. Paul Malong Awan.
Kiir has instead accused officials who had once served in his government of "massive corruption" before they join rebellion.
"The people who ran away from us, and who are now accusing us of corruption, God knows who among us is the corrupt person," said Kiir.
"It has become a habit in South Sudan that people embezzle money and when they are to be accounted for, they think of rebellion and they announce that they ran away because the government is corrupt," he added.
"They leave behind their storey buildings in Juba and other capitals of South Sudan and in the neighbouring countries. How did they build the houses if they were not involved in corruption?"
Kiir has again admitted the country has run out of cash and blamed it on the ongoing civil war and corruption by former government officials, pointing out that his soldiers and civil servants have gone unpaid for almost a year.
Kiir, whose administration continues to battle insecurity, urged government-controlled law enforcement agencies to help salvage the country's economic crisis.
"You have seen our country is falling because of lack of resources. We have no money but we have a lot of resources which are unexploited," said Kiir.
Paul Malong, a former ally of Kiir and former military chief, on Monday formed a rebel movement to challenge President Kiir, accusing him of looting the newest nation's resources and turning it into a failed state.
Paul Malong was sacked from his position in May 2017. The government alleged that Malong had squandered a lot of money and staged three failed attempted coups before being removed.